Incentive redemption rate (a.k.a. rewards redemption rate) is one of the most important loyalty program KPIs to track. It measures the amount of incentives redeemed compared to the total number of incentives issued.
A high loyalty program redemption rate is a sign that your members are deeply engaged with your business.
A low redemption rate, on the other hand, could be a signal that your loyalty program needs some minor tweaking — or a major overhaul.

What's the average redemption rate for loyalty programs?
The average redemption rate is around 60%.
That's the average across industries and loyalty platforms, based on our experience working with hundreds of merchants.


Improve your loyalty program redemption rate.
While the industry average redemption rate is around 60%, the average for Spendgo customers is 92%, and the top performing Spendgo customers have a near-perfect incentive redemption rate of 96%!
By looking at what these companies do differently, we've identified three real-world strategies for improving the incentive redemption rate at your business.


Why do loyalty program redemption rates matter?
First, let's look at a loyalty program where members normally visit every two weeks.
In this case, we offer a reward every three visits, which must be redeemed within one week. Due to the redemption window, those who redeem their rewards visit more often.
Look below to see how members who use rewards will actually make seven purchases instead of six over an eleven-week period: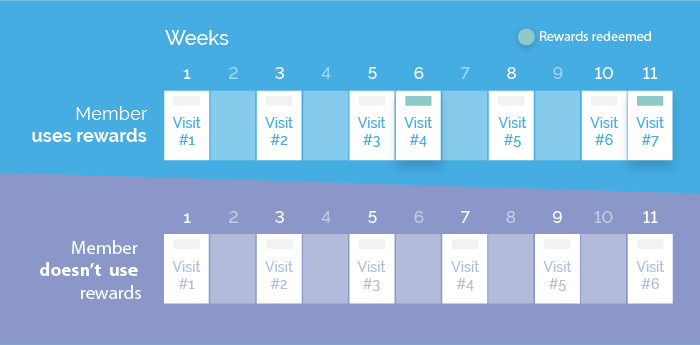 If you stretch this out over an entire year, you'll get five additional visits from members who use rewards vs. those who don't.
Now let's do the math for how this impacts your sales. Below we compare a business with an average redemption rate of 60% to one using Spendgo with a 92% redemption rate. Let's assume each business has 10,000 members in their loyalty program and an average ticket of $15 per transaction.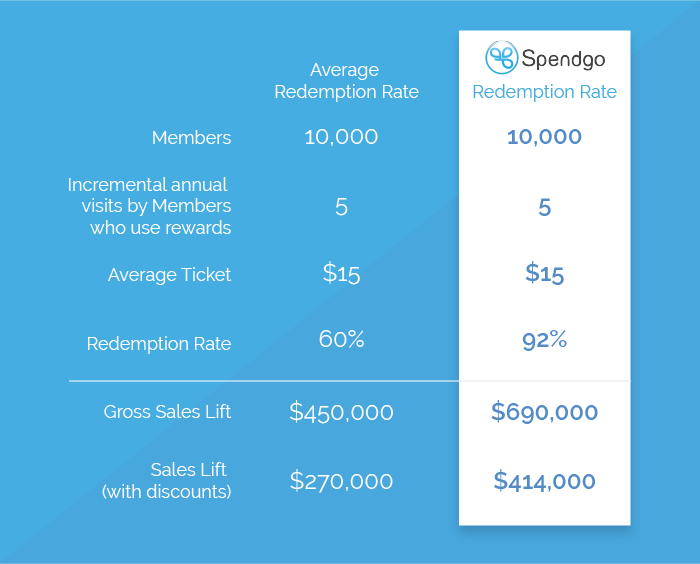 As you can see above, all things remaining equal, the business with a higher redemption rate is generating over 50% more in sales, even when you account for the discounts from the rewards.


Don't expect customers to know they have rewards.
The average U.S. household is enrolled in 18 loyalty programs, and the average person receives over 100 emails a day. No matter how great your incentives are, they're still just a little bit of signal in a lot of noise.
The solution? Don't wait for the customer to tell you they have a reward to redeem. Instead, use a system that automatically pulls up their rewards when they access their account.
It might seem counterintuitive to offer a customer discounts or rewards they've forgotten about, but it's an important part of a long-term strategy of improving customer experience and increasing customer lifetime value.
BONUS TIP: Use unredeemed incentives to your advantage. Reward reminder emails can be a great way to reengage customers who haven't visited in a while and promote new products or services.


Ditch the codes and coupons.
Codes and coupons are common methods for delivering incentives, but are they necessary?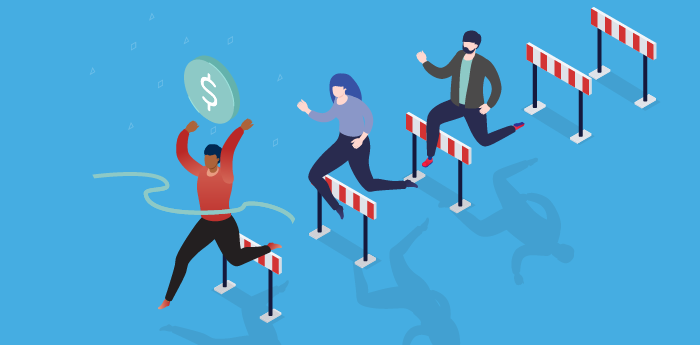 To improve incentive redemption rates, businesses should remove obstacles between when the incentive is issued and when it's cashed in. By eliminating the need for customers to go through their inbox to find a reward or hand in a paper coupon, you reduce the interaction cost of the reward redemption experience.
Instead of codes, consider using self-service options like customer-facing tablets. The customer can simply enter their phone number or other login info, see a list of their rewards, and choose which ones to redeem.
This also reduces checkout times, which is an important part of the customer experience at brick-and-mortar stores. Using a self-service tablet is much quicker than going through a cluttered inbox, making things a little better for the customer (and everyone behind them in line).


Rethink your reward restrictions.
There are a lot of good reasons to add restrictions to an incentive.
Maybe you want to create a sense of urgency, so you add an expiration date to your offer. Maybe you want to maximize revenue during peak times, so you black out certain days or hours.
But when it comes to the customer experience, there's not much worse than being told you're not allowed to use a reward that you've earned.
By being a little bit more flexible with your loyalty incentives, you can communicate to your best customers that they can engage with your business on their terms, and improve your redemption rate.
BONUS TIP: Here's a restriction you might not have thought about: by making rewards only redeemable online or in-store, you're restricting how customers interact with your business. For maximum redemption rates, use a platform that offers ecommerce and online ordering integrations to let customers access rewards across channels.


A note about breakage.
You might be asking yourself why it's so important that your loyalty members redeem their rewards. After all, each unredeemed reward is a discount or freebie that you don't have to deliver on.
There's a word for this: "breakage." Breakage used to be considered a good thing, but there are two good reasons you should keep it to a minimum.
First, loyalty program breakage (a.k.a low redemption rate) is an indicator of poor customer experience. It usually means there's deeper problems with the incentives themselves or the way they're being delivered.
In addition, breakage represents a bookkeeping problem. Unredeemed rewards are a liability for your business, and that can be an issue, especially if you're trying to secure financing or get acquired.


Experience the loyalty platform with a 92% average redemption rate. Schedule a demo.