Loyalty can be a defining characteristic in the relationship between a pet and their caretaker. For pet shop owners, it's also a key aspect of generating regular business from your most reliable customers. How do you build those connections to ensure a lifelong partnership with pet owners in your community?
Pet store loyalty programs reward customers for their patronage with exclusive discounts, special giveaways, and other valuable perks. The success or failure of your pet shop loyalty program will come down to a few specific factors: simplicity, value, and exclusivity: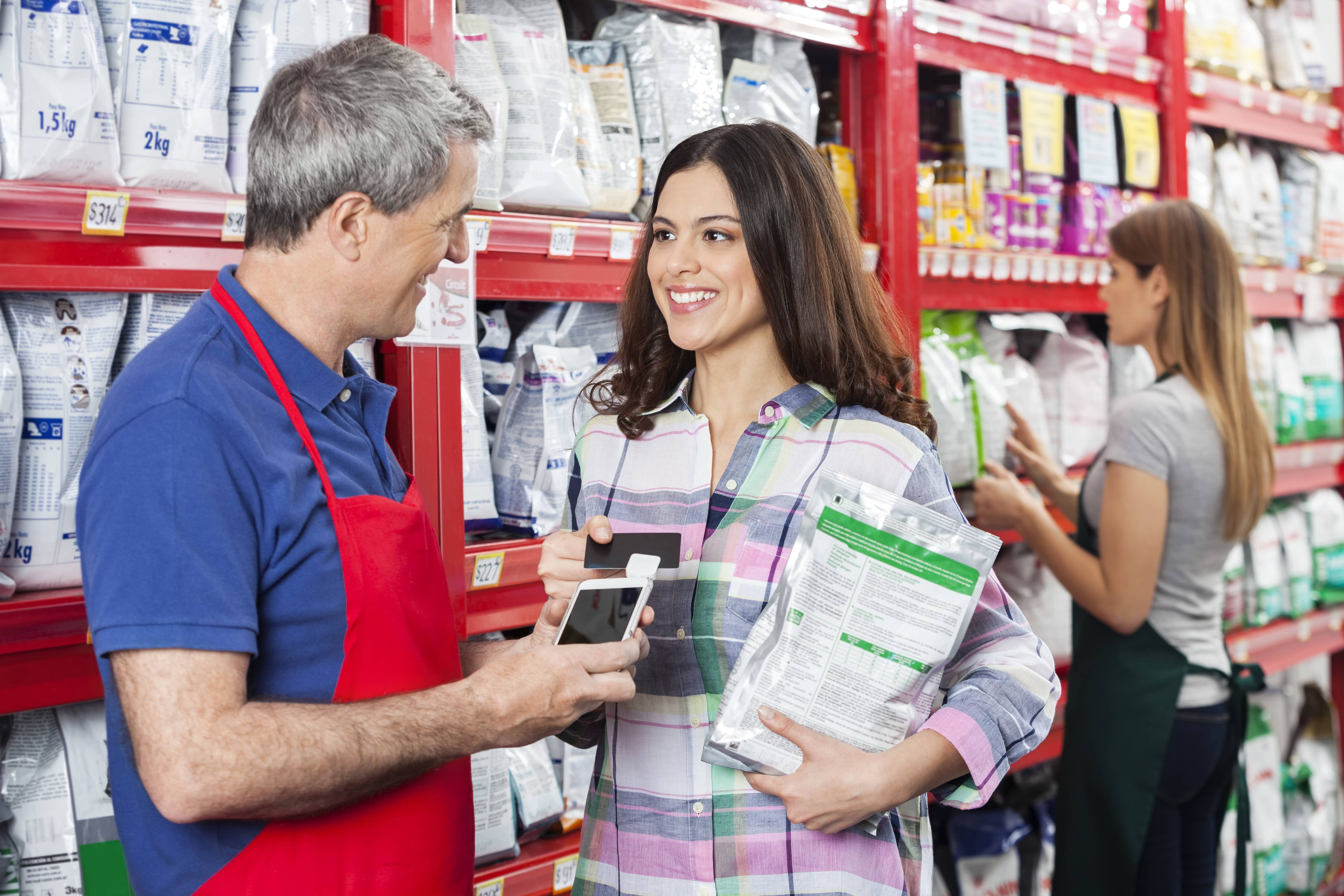 Simplicity

Simplicity matters at pet shops more than most other retail stores. Why?
Pet shop owners often have more on their hands than the standard shopper — sometimes, very literally. A customer who is holding her maltese isn't going to want to fill out a rewards program membership, especially when her beloved, extra-squirmy fluff ball is barking at the kitten adoption station nearby. Weighing the benefits of the program against the effort involved, the customer in this scenario likely decides to sign up next time… maybe.
Chances are, the customer would have signed up if they only had to tap their phone number into a register-side kiosk. Adding unnecessary steps to the process led to a missed opportunity.
Value

Discounts and points programs are a big value add for pet rewards programs. While a few cents per item may not seem like much, those cents add up quickly when you're feeding a house full of kitties (or one bernese mountain dog).
There's more to a loyalty program than just offering discounts — it's a great opportunity to show off your creativity and find unique ways to connect with your fellow pet owners. Is there another way to create special value for your customers?
Maybe you've got a small order coming in of special treats or toys that you want to offer to your most loyal customers first. You could also give away small free gifts to those who spend over a certain amount within a given month. The only limit is your creativity!
Exclusivity
Every pet owner is certain that their pet is the greatest cat, dog, rabbit, or bird there is. They want the best for their pet, and if you can introduce a feeling of exclusivity into the program, you're adding to that feeling of giving them the best.
Some rewards programs will introduce a VIP level for regular customers to help inspire achievement by building on that exclusive feeling.
Nowadays, most pet stores offer some form of loyalty program — which makes bold, clever rewards and promotions all the more essential when setting up your own. What essential components make a loyalty program successful? Here are the top five ways to ensure success:
1. Earn cumulative discounts
Point systems reward a customer for their ongoing support by offering discounts on food, treats, toys, and more. A regular customer will come in monthly or even weekly to get supplies for their pet. In return, you generate valuable data about their buying habits, which can be used to drive marketing campaigns, streamline ordering and optimize your shelves.
When you offer a free bag of food for their ongoing support, they will feel the appreciation. Try promoting "double points days" to drive foot traffic on slow weekdays, and introduce a fun element that makes the points system feel less transactional.
2. Free treats
A free dog biscuit and cat toy won't cost much, but they make a big impact where it matters. Your loyalty club giveaway gift can also help debut new products to your most dedicated audience of buyers. Giving out perishable treats can also help rotate stock faster, ensuring better freshness for everyone.
3. Birthday and holiday gifts
Have your customer log their pet's birthday as part of the signup process, then offer them a special treat annually to celebrate. Host fun in-store get togethers to celebrate key holidays — Halloween costume competitions, gingerbread-style dog houses for the holidays, and so on.
Be sure to promote your campaign with a hashtag, because you know that photo is going up on Instagram.
4. Easy to use terminals
Register-side kiosks allow customers to sign up for loyalty programs quickly, access their account in seconds, and track progress on points and rewards with the touch of a finger. They combine the best aspects of an app, but with unmatched ease-of-use.
Popular kiosk solutions like Spendgo are an affordable alternative to expensive POS integrations for small and mid-size businesses. Spendgo terminals collect valuable data that you can use to tweak and tailor your marketing, all using standard tablets you may already have.
5. Guides and resources
Owning a pet isn't easy. For many people, a little professional advice can go a long way. Position yourself as a trusted resource for pet training, health, and grooming needs, and you make your brand an indispensable part of that pet owner's life.
Start by making access to free guides a part of your loyalty program, including occasional email updates with tips and tricks for pet owners. You can even go beyond and start offering in-person training seminars for pet owners.
Can building loyalty deliver better ROI than outbound marketing? We crunched the numbers in our new whitepaper. Read it here.