Optimizing your White-label Olo ordering experience for Loyalty and Customer Engagement
Not all brands have the budget or resources to hire an agency to build out a customized online ordering experience. In this post we will take a look at how to optimize the Olo white-label ordering experience for loyalty and customer engagement
For information on why loyalty is important for online ordering you can read our blog post Converting Marketplace Orders to Direct Orders. Below we'll give you some tips on how to implement an effective loyalty experience with Olo's built in branding options.
Olo requires members to login/sign-in order to use loyalty (i.e. guest transactions do not qualify for points and cannot use rewards). This makes it imperative to implement Single Sign-On (SSO) as an immediate step. In fact if you're unable to launch a loyalty program on day 1, you should still launch SSO because then you will not have to ask your customer to change their account logins later.
With SSO your customers no longer need the tedious process of creating and signing in to several accounts, instead, they can order and enjoy rewards from one account for your entire brand.
You should design your SSO page with the same look and feel of your Olo page, to make sure that your guests aren't confused when they navigate to the SSO URL. This eliminates friction and allows for a smooth experience. Don't worry if your SSO sign in page has different imagery than your loyalty sign on the page.
SSO allows you to easily implement customer opt-ins for email and text messaging with your preferred vendors since you no longer need to have a direct integration between your messaging provider and Olo.
Once you are live with SSO, you need members to really use your loyalty program. There must be multiple call-to-actions and this requires leveraging all the built-in content modifications Olo allows for. Members need to be reminded and prompted to sign in order to enjoy rewards at multiple stages in the process. Here is where:
On your Olo landing page make sure you use your main image to tell members to sign in so that they can earn points and use rewards. Food photography is great, but the customer is on this page because they want to order with you, so use the real estate to drive sign-ins & sign-ups.



Olo Landing Page - Cold Stone Creamery




In your reward notifications emails and online ordering marketing communication call out to customers the need to sign in whenever possible.
The menu section in Olo allows for messaging and alerts at the top of the page. Leverage some of this space for an additional call to action letting customers know they must sign in to earn points and use rewards.
Whenever possible run campaigns and offers that leverage the loyalty program instead of Olo offer codes. Offer codes can be used in Olo even for guest orders and don't encourage customers to sign in first.
Try Olo's newer responsive mobile friendly UI. It works well for desktop (so you can make this your default ordering page)and does a better job of asking customers to sign in before completing payment.
Olo Responsive Mobile UI - True Food Kitchen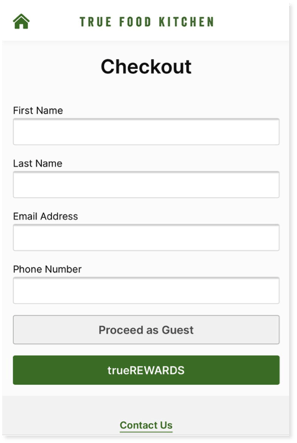 You also need to educate your members on how to use the rewards program in Olo. Here's a couple of recommendations:
With a simple screen capture video recorder, make a quick video demo of how to use rewards in Olo and embed that in your email communication. This should be in addition to step by step written instructions.
Share the video demo with your support team so they can send it to customers when they have questions and make it part of your online FAQ.
Make your reward/offer descriptions clear so that guests quickly know if any rules apply Example, if there is a minimum purchase required to use and offer, try to incorporate it in the offer name (i.e. $5 off, on purchases $25 or more).
FYI, loyalty members not knowing or forgetting to sign in prior to making their purchase is the number 1 source of customer loyalty member support tickets when implementing loyalty with Olo's white-label website.
Want to learn more about implementing a loyalty or customer engagement program with Olo or interested in talking to one of our Olo & Spendgo certified agency partners to build a budget friendly and even better experience? Talk to one of our CX rockstars at Spendgo.