It's hard to "try before you buy" with beauty salons (hair salons, nail salons, spas, etc.), which can make connecting with new customers difficult. Social media is here to help, and is one of the best options for beauty salons looking to market to and attract customers, and generate loyalty.
Your social profiles can become a digital work portfolio, services menu, and review site all-in-one, making social media marketing for beauty salons a success. The image-heavy interface of most social media platforms allows customers to view, explore, and "test" your salon's products and services remotely before they come in.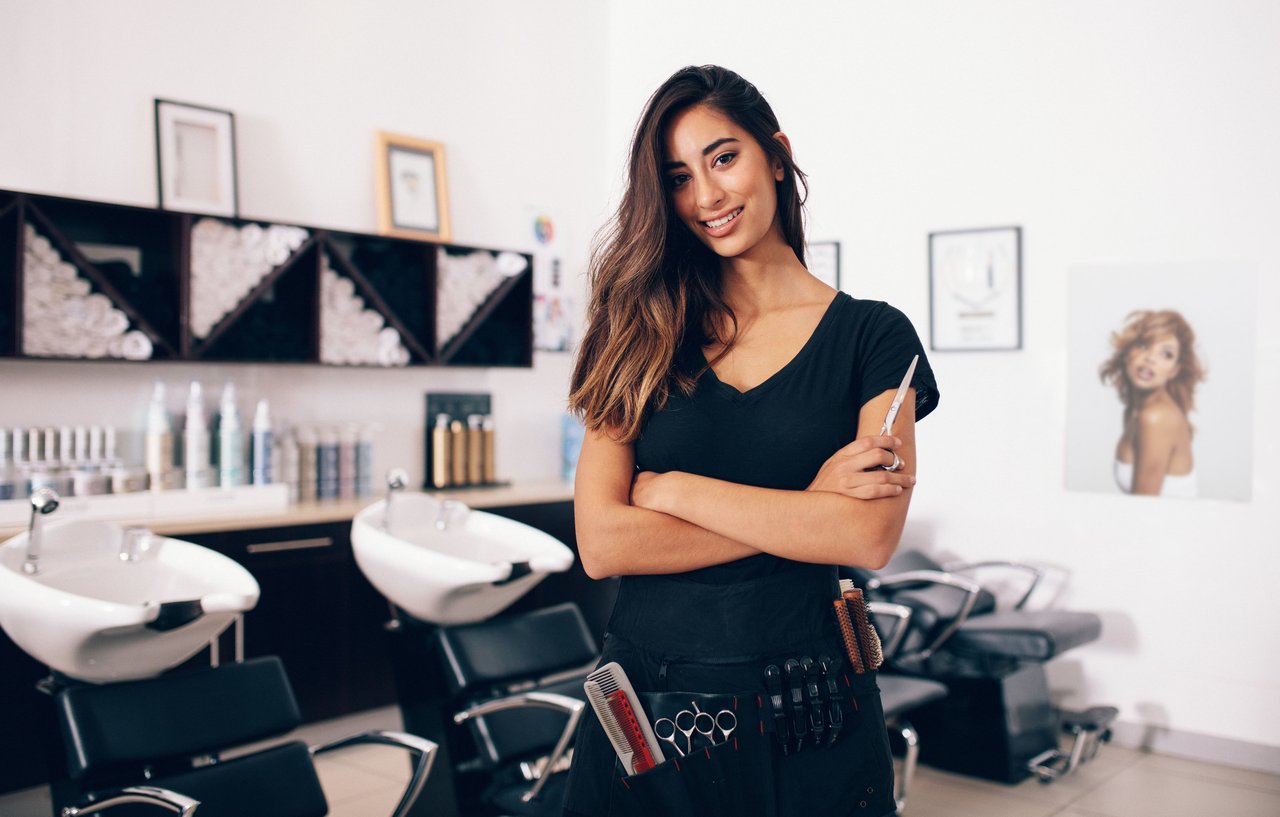 What's more, this form of marketing gives your salon a boost because you can bet that the customers who visit you have already done their homework.
Social media marketing for beauty salons: strategies to consider
Social media offers new and innovative marketing strategies to try. As beauty salons rely heavily on good visuals of their work, locations, and products to generate interest and attract customers, social media is a useful tool where pictures, descriptions, and dialogues can abound. Consider the following strategies for marketing your beauty salon on social media:
Keep your profile up-to-date
An out-of-date social profile can turn off potential new customers faster than a bad haircut, so you want to keep your profile up-to-date as much as possible. This means you should be posting relevant content frequently and keeping your information — your business address, phone number, email, and other social links — current. You don't want a customer to call an old number, click a dead link, or send an email to a defunct address. This, more than anything else, will cause potential new customers to move on from your business and look for another.
Learn more about successful customer retention strategies you can implement with your business.
Bottom line: social media is great but only if you use it correctly. Having social accounts just for the sake of having them won't do you or your customers any favors. Use them and update them frequently!
Be the expert
Use your posts to show just how much you know about your industry. Share daily tips from stylists, promote the next best hair or skin care products on the market, and offer advice that encourages repeat business (such as "For consistently vibrant hair, schedule a touch up every few months!" or "For healthy nails, experts say to schedule appointments every two weeks!").
Post wisely
Certain social platforms are better for certain actions. Check out these platform-specific marketing ideas:
Ideas for Instagram: If your main social media marketing outlet is Instagram, there are few ways to utilize this medium to its fullest extent:
Share before and after pics in a post or on an Instagram story. The "swipe-through" feature gives you a quick and easy way to add the "before" and "after" in a single post.
Utilize Instagram stories for contests and giveaways. Features like polls, surveys, and quizzes allow users to interact, ask questions, and share their thoughts on a product or service. This provides you with valuable feedback and your customers with a cool gift, offer, or promotion in return.
Create a feed of lifestyle and community pictures to showcase your salon and the surrounding community. This allows potential customers to get to know the staff, the area, and other cool features surrounding the salon. By the time they make their way in for an appointment, they'll feel like they're meeting their friends.
Ideas for Twitter: The best social platform for bite-sized media and information, Twitter is a great space for balancing your relaxed persona with your professional one. Think of some of the most popular business Twitters right now: Wendy's, Netflix, and even Dictionary.com have curated accounts that are equal parts funny, informative, and professional. Take a page from their book and try the following ideas:
Utilize photo clusters. This Twitter feature is perfect for showcasing fresh cuts, new dye jobs, touch ups, and cool styles.
Ask questions and create polls about styles, the best looks of the season, and more. Get an idea of where your customers are with the current trends so you can cater to them better.
Interact with your followers and other Twitter users by retweeting them (especially if they're voicing a need for beauty salon services), replying to them, and sharing pertinent information (offers, promotions, etc.) with them.
Tag happy customers
Once you've done business with a customer, you can (with permission!) repost their posts about your services or tag them in a post of your own. Beauty salons especially benefit from customer posts and shoutouts because they provide solid evidence of your stylistic skills. Instagram and Twitter are ideal for this!
Talk to customers
Social media is one of the best customer service tools for small businesses because it allows you to reach out, talk, and exchange information with your audience quickly and efficiently. Solid customer service is important at every step of the journey — from the moment customers step into the store and even after they leave — because it fosters a relationship with them, increases the likelihood of customer retention, and creates advocates.
Have a set plan
Come up with and stick to a plan for posting frequency. When you post daily, you maintain your presence and customers can expect to interact with your salon at some point during their week. This helps build up your relationship with them and keeps them engaged.
When you acquire customers, do what you can to keep them coming back. Loyalty programs in your salon are the best way to encourage customer retention, and social media is one of the best mediums for keeping your business (and your loyalty program) top of mind.
Schedule a demo and learn how to use social media marketing to generate loyalty for your salon.